Join Us!
We are honored to welcome Chef Tony Mantuano on this adventure. The first to bring fine Italian dining to Chicago's Spiaggia, one of the country's most decorated Italian restaurants.
As our founder, Chef Mantuano extensively travelled and worked through the Italian Peninsula. They believe traveling to the source of the cuisine you are cooking and immersing yourself in that culture is fundamental.
And now Jeff and Tony are heading to Italy together for a gastronomic odyssey in Friuli and Slovenia. Join them in this culinary trip in this magical and unspoiled region!
Discover Traditions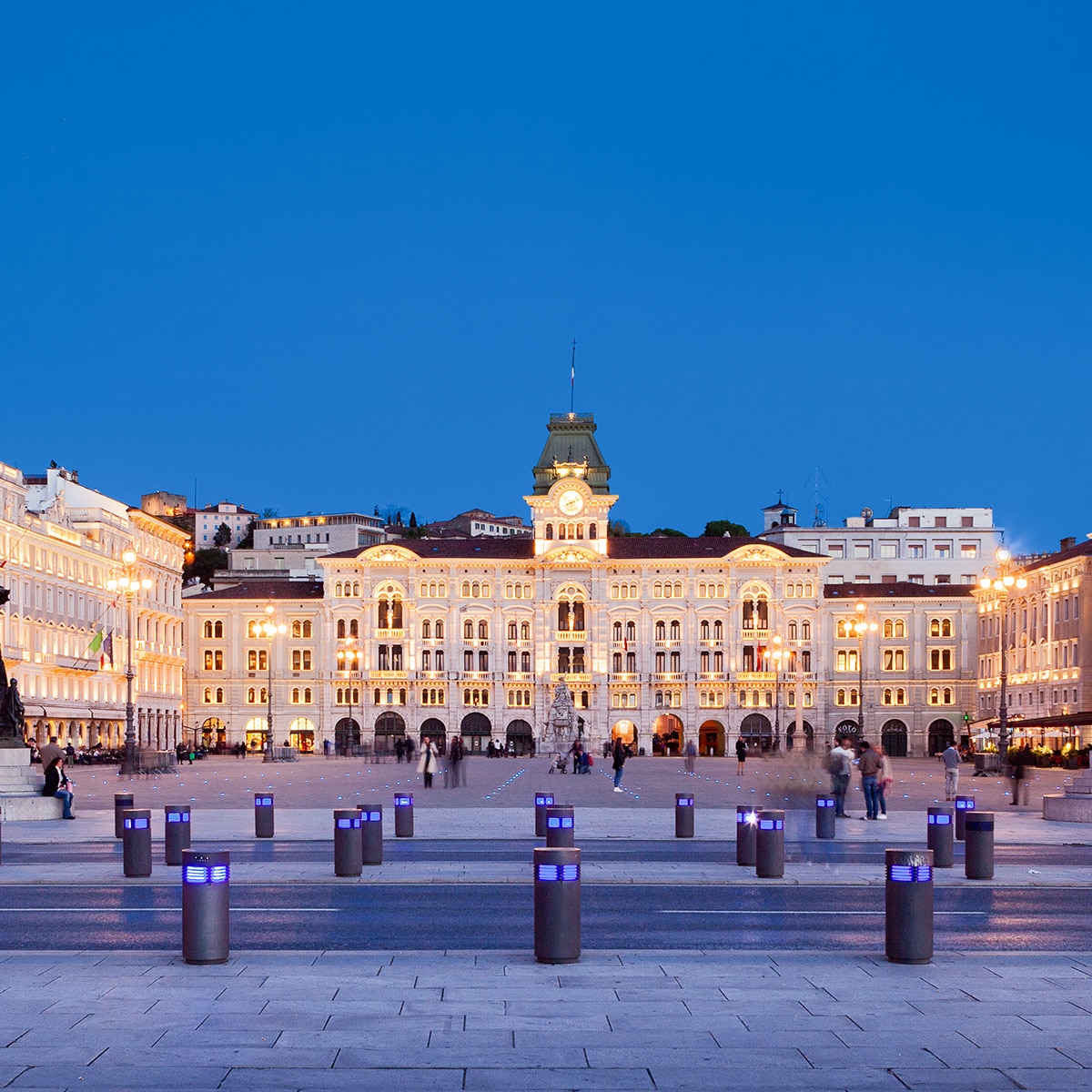 Explore Trieste
A day trip in the capital, with its waterfront lined with portentous neoclassical architecture, designed to discover cultural crossroads and the pleasure of good living in one of UNESCO World Heritage site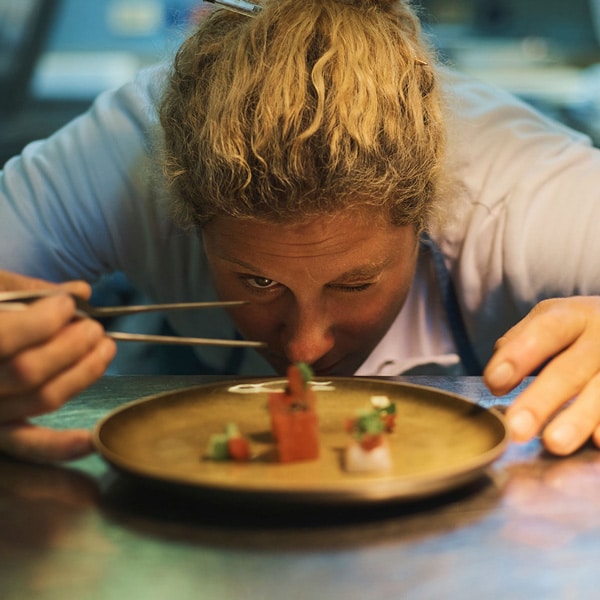 Dinner at Hiša Franko
Listed in the world 50 best, it's set at the foothills of the steep mountains, near the emerald Soča river. Chef Ana Roš sources from this territory rich in trout, deer, goats, sheep, fruits and wild plants
Alpine Village of Sauris
We will uncover this unspoiled landscape by soaking in the breathtaking views of the turquoise Lake Sauris and savoring the foods of this little corner of Italy in the Dolomites
Your Experience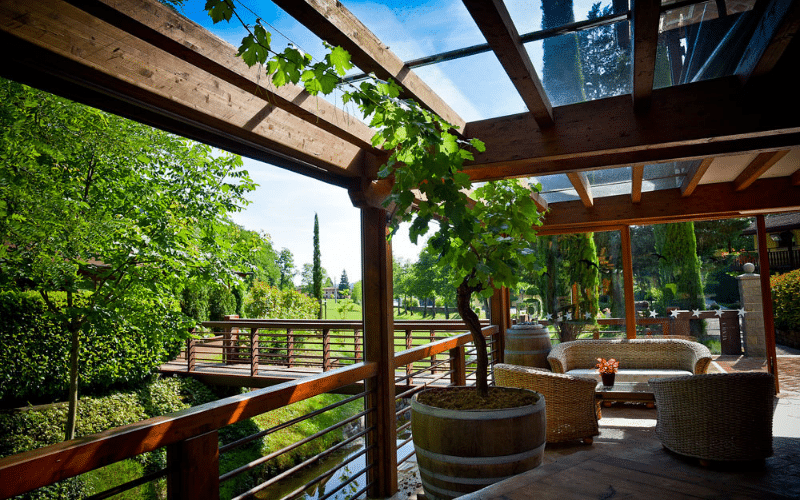 A Wine Resort for us only right in the heart of Friuli's top wine region. A magical hideaway resting on top of the suggestive Venica Family cellar
Create delicious seasonal recipes in hands-on cooking classes with our Award Winning Chefs and Local Artisans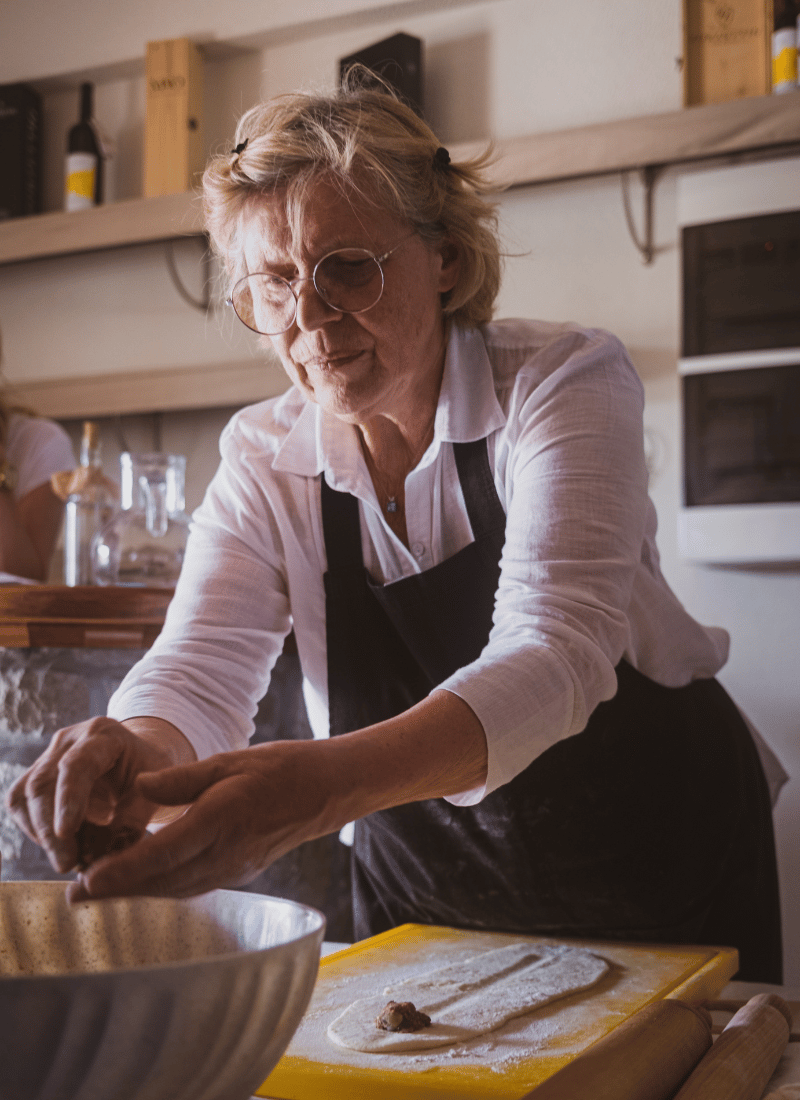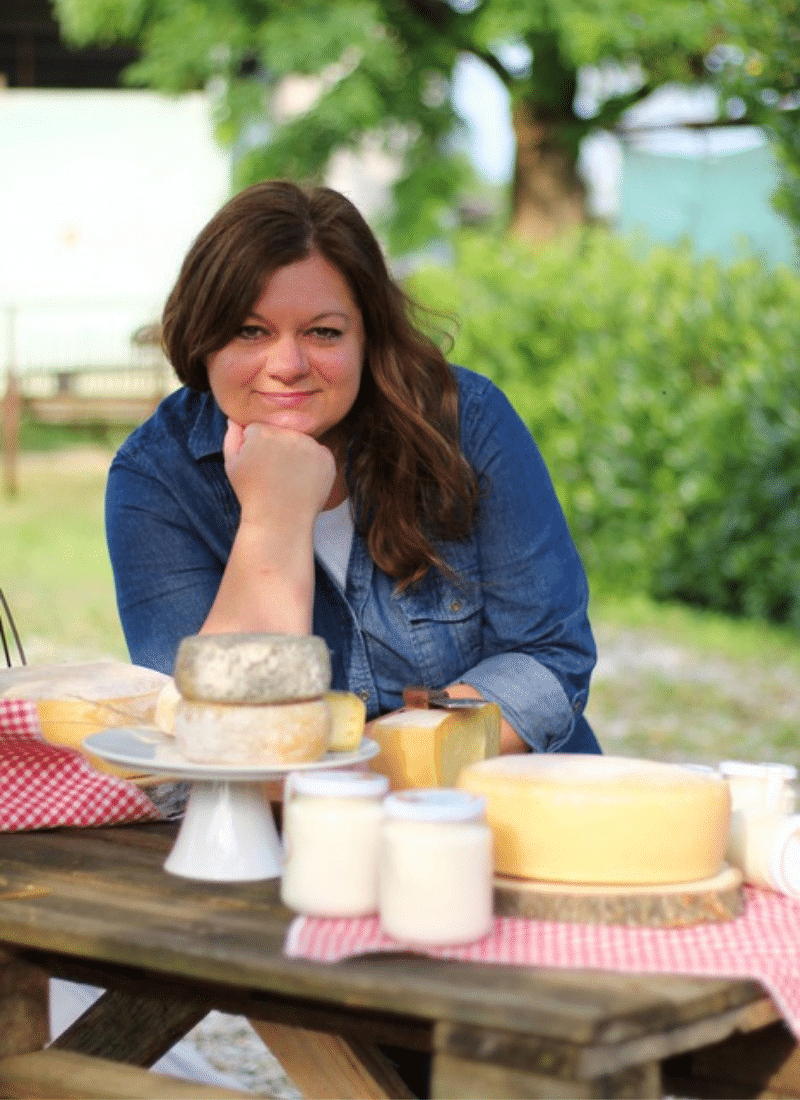 Meet the Zoff's Family that passionately crafts amazing organic cheeses, yogurt, and the most creamy yummy gelato!
A one-of-a-kind experience at a luxury Chalet in the Dolomites, eye to eye with majestic nature. A timeless place to reach for the stars and connect with ancient traditions and genuine flavors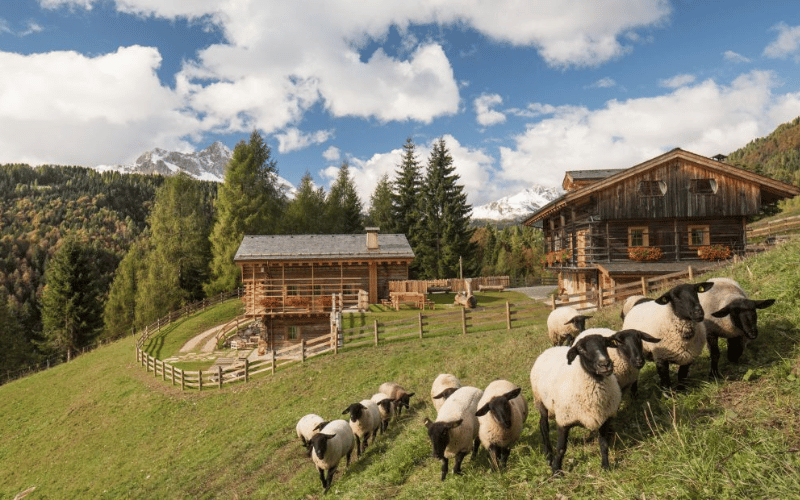 Book Now
Itinerary
Day One
Our week begins when we find the most amazing oasis in the Dolomites after meeting up at the Venice Airport.
Borgo Eibn
is a small, family-run boutique hotel set in a breathtaking location that will welcome us for two days. A timeless place to reach for the stars and be happy as we uncover ancient traditions and enjoy heavenly delights at the table.
After our first meal together, we take time to settle in our beautiful rooms, enjoy a walk in the village of Sauris or relax at the Spa.
We visit a famous prosciuttificio for an up-close look at how the most mouth-watering cured meat of the region is made by talented artisans following hundreds years old recipes.
In the evening we gather to take in the spectacular sunset before we head to Lake Sauris for an elegant and creative dinner overlooking the water.
Day Two
Today we start the day with breakfast on the panoramic terrace in front of the magnificent mountain scenery featuring all kind of freshly homemade delicious savory and sweet treats.
Afterward, we reach our first cooking class spot by horse or Jeep. Your call. Rocco, the owner of Borgo Eibn, is taking us to his chalet for a highly curated culinary experience. We will discover the lifestyle and flavors of this well-hidden part of the world with our chefs, crafting a memorable lunch.
In the afternoon we return to our retreat and unwind at the Spa with a swim or a massage.
Tonight we stay in! Dinner is at Borgo Eibn Restaurant. An intimate place, an elegant parlor with the flair of a private home. The Slow Food philosophy as well as natural products of the highest quality from their production are the essential ingredients of our menu. What the Restaurant conjures up on your plate is an ode to the essence of the Carnic Alps.
Day Three
After kicking off our day with a healthy breakfast, we say "Arrivederci!" and depart for our next destination. Later in the morning we reach the Collio Wine Region where we will introduce you to the Zoff Family. Their organic farm is the first of the region and uses milk exclusively from their animals fed with the fodder they cultivate. The result is one of the most prized Fossa cheese along with mozzarellas, caciottas, ricotta, and yogurt... You will die for their ultra-creamy gelato!
Just a few miles away the Venica & Venica Wine Resort is awaiting us in the rolling green hills of the Collio region between Friuli and Slovenia. The Venica Family has been making wine since 1938 and turned their 100-acre vineyard into the welcoming
Venica & Venica Wine Resort
with beautiful indoor and outdoor lounges, a garden, pool, tennis court, bikes, and walking paths through the vineyards. This paradise is exclusive to us for the rest of the week! We get settled in our rooms and for a few hours we slowly take in the unspoiled surroundings.
Early in the evening, we meet Giampaolo, the owner, that welcomes us in his Winery as we sip the cellar's best wines before we sit down to a special chef's tasting menu featuring updated traditions like Mlinci, fresh homemade pasta served with a white ragu of locally grown goose, paired with selected Friulian wines at an elegant Michelin-star restaurant.
Day Four
Buongiorno! Today you meet some very special friends of ours. First up is Valter of Scarbolo Winery. His family love affair with the indigenous Friulian varieties -Tocai Friulano, Chardonnay, Sauvignon
Day Four
Buongiorno! Today you meet some very special friends of ours. First up is Valter of Scarbolo Winery. His family love affair with the indigenous Friulian varieties -Tocai Friulano, Chardonnay, Sauvignon Blanc, Merlot, Cabernet and Pinot Grigio- is generations old but his innovative skills are taking Scarbolo wines to new heights. Go ahead and indulge in these wines of remarkable intensity as Valter take us for a tour of his cellar and share a light lunch in one of his favorite spots before returning to the Resort for a break.
Want to know how to treat your family and friends to traditional Friulian recipes at home? Throw on an apron and join a hands-on cooking class led by chefs Jeff Michaud and Tony Mantuano with our friend Signora Anna. She shares her family recipes as we take over the kitchen of a nearby agriturismo. Later that evening we sit down and savor dishes like crispy frico with Montasio cheese and wild radicchio, buckwheat fresh pasta with summer vegetables, cjarsons stuffed with smoked ricotta cheese, and apple strudel...
Day Five
Indulge in a lazy morning in Friuli's paradise before we find our way to the rounded hills of Brda, generously warmed by the seaside sun and the warm Mediterranean wind, they are the home of one the most prized Slovenian wineries. The owner welcome us and pours his story in glasses of his interpretations of Rebula, Sauvignon and Pinot. We grab a quick bite al fresco and head to Kobarid.
Along the way, we take in the stunning sights of the Soča Valley and Tolmin Gorges, maybe a short walk in Slovenia's nature to see some spectacular waterfalls and work up our appetite for a memorable dinner at Hiša Franko. A gastronomic oasis nestled in the lush valley of the Soča River. Named one of the Worlds 50 Best Restaurants and awarded with 2 Michelin Stars.
Yes, our second Michelin Star dinner in a week!
Hiša Franko
is the home of chef Ana Roš, who starred in the hit Netflix TV show, "Chef's Table," and named The World Best Female Chef. Her impeccable preparations crafted with hyperlocal ingredients will prove to be one of the most amazing meals you will ever experience.
Day Six
Time to explore beyond the countryside... Today we see Trieste, the oldest port cities of the Austrian Habsburg monarchy and a European hub of literature, music, and food.
We enjoy some free time to explore the city and its shops or you can follow the chefs for a tour of the local food artisans.
Taste the cuisine of Trieste that blends Middle Eastern and Italian coastal traditions in the most beautiful way during an elegant lunch sitting in the majestic seafront Piazza Unitá.
We meet our expert guide to get an inside look at the city's historic culture, including the Roman amphitheater, the archaeological Colle di San Giusto, and the Jewish ghetto with its many antiquarian and food shops.
As our driver safely take us back to Cormons, we soak up the views and gather for our final dinner al fresco at the bistro of the Sirk Family. This meal will capture the culinary crossroads of Friuli, Austria, and Slovenia, with authentic preparations using local food in ways that perfectly reflect the region's multifaceted culture and history. Right after, we relax into some comfy chairs back at the wine resort and enjoy our last night in a paradise of nature
Day Seven
Enjoy breakfast and a few last glimpses of Friuli before we catch our flight and say goodbye to Italy... Arrivederci! Until next time...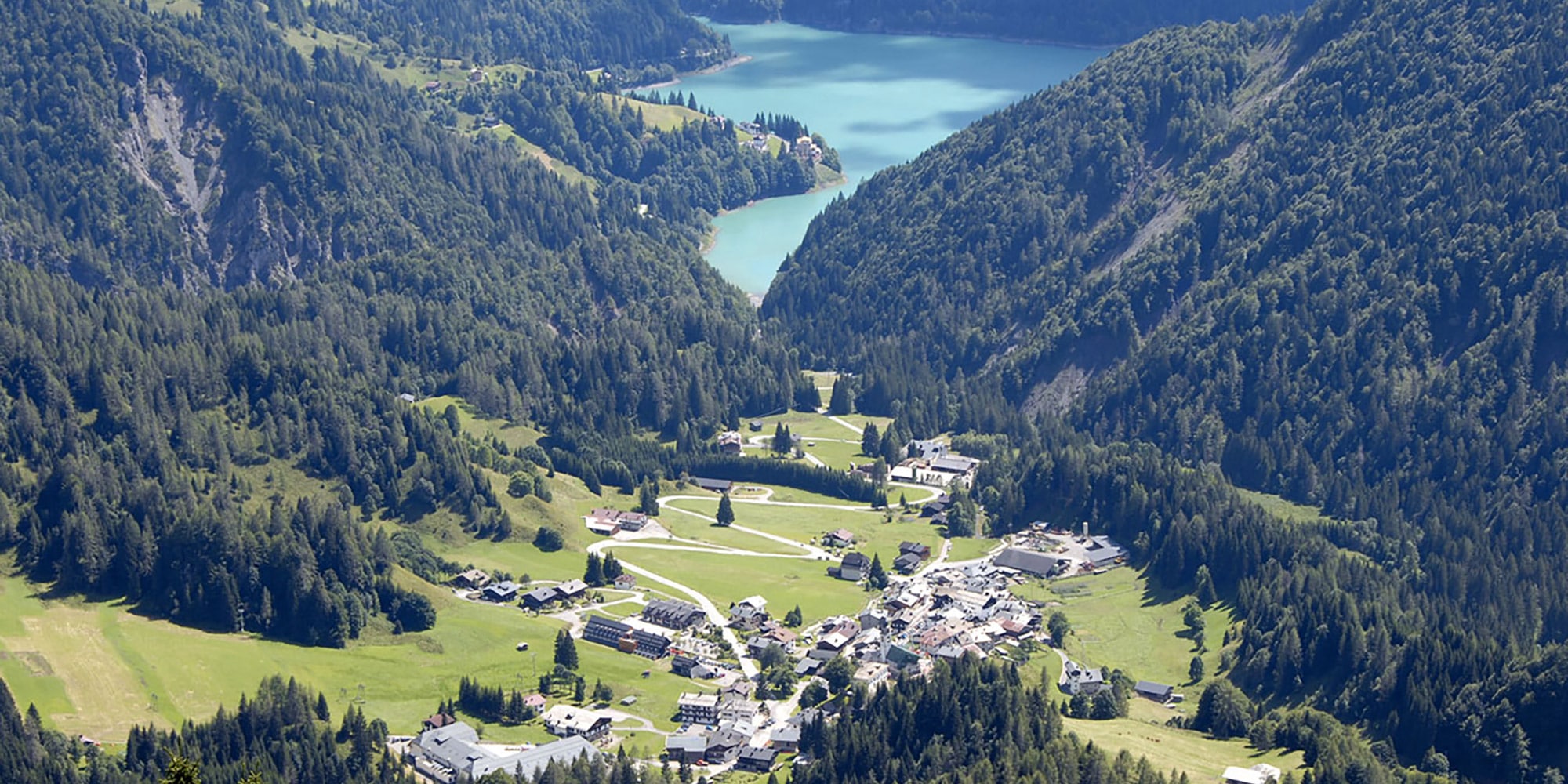 So many questions, right?
That's OK, we have answers. Read our FAQs below. Or email us at travel@laviagaia.com.
What does the price include?
Two night stay at Borgo Eibn and four nights at the Venica & Venica Wine Resort (accommodations in double occupancy); private van with driver for all trips and excursions in itinerary; arrival and departure airport group transfer (see arrival & departure details below); private tours with local guides and cultural experts; exclusive VIP access and tastings; guided activities; entrance fees; daily breakfasts, lunches and dinners with wine; gratuities.


What does the price not include?
International roundtrip airfare; travel insurance; transportation to the trip's starting point; activities not included in the trip itinerary; hotel incidentals including room service, laundry service, and hotel personal bar tabs.
What are the arrival & departure details?
The trip starting and ending point is the Venice Marco Polo Airport (VCE). We recommend that you arrive at least one day before Sunday, June 4th, 2023. We'll meet as a group between 9 and 10 am at the Airport. 
 The last day of our culinary trip is Saturday, June 10, 2023. You should schedule flights home after 11 am from Venice Marco Polo Airport (VCE).
Who is going on this trip?
We limit the group to no more than 16 travelers, your host Jeff Michaud and our guest chef Tony Mantuano. Our culinary trips are focused on food and traditions and you can expect to be joined by a diverse group of like-minded people – including solo travelers, couples and friends traveling together. This trip is recommended for travelers aged 18 and above.


Who is leading this trip?


This trip is led by our founder, Chef Jeff Michaud. He traveled extensively through the region, made wonderful friends and crafted your itinerary for the week. Our special guest will be celebrated chef Tony Mantuano. We'll be joined throughout our adventure by local, expert guides who are deeply knowledgeable with respect to local cultures, customs and history and are passionate about sharing that with us.
What is the cancellation policy?
You may cancel on or before February 4th, 2023 and receive a full refund minus a $500 per person service fee. If you cancel on or after February 5th, 2023 there is a 50% cancellation fee. On or after April 5th, 2023 there is a 100% cancellation fee. We highly recommend purchasing travel insurance as we are not able to make exceptions to this policy in cases of family/medical emergency or cases of the trip being canceled (See our Terms and Conditions for full details).


What Travel documents are needed?
U.S. citizens are not required to have a visa for tourist visits to Italy but are required to show a valid US passport. It is recommended that your passport is valid for six months after your travels are over.
Can this itinerary be booked for a private group?
Of course! We can customize this trip and itinerary at a time that is most convenient for you and your friends. The minimum number of participants for a private trip is 10. For more information contact us at travel@laviagaia.com.


Do I need to pay a solo traveler supplement?

Unfortunately, we will not be able to offer single room occupancy on this trip. If you are interested in sharing a room with another solo traveler, please contact us.