Verona has rebuilt itself to beautiful effect over 2,000 years of dramatic history, including countless wars and occupations, a flood, the plague, and seven earthquakes. Now recognized as a UNESCO World Heritage city, it remains a vital waypoint connecting Italy to its Austrian border. On the banks of the river Adige, Verona is compact and easy to navigate with picturesque cobblestone streets connecting historic landmarks such as the 1st century Arena di Verona, a Roman amphitheater still used for operas and concerts, and Juliet's Balcony, the fictional setting of Shakespeare's Romeo and Juliet. In the city's bustling Piazza delle Erbe, your attention will be torn between the enchanting medieval architecture and the fabulous local dish of bigoli pasta with rich duck ragu.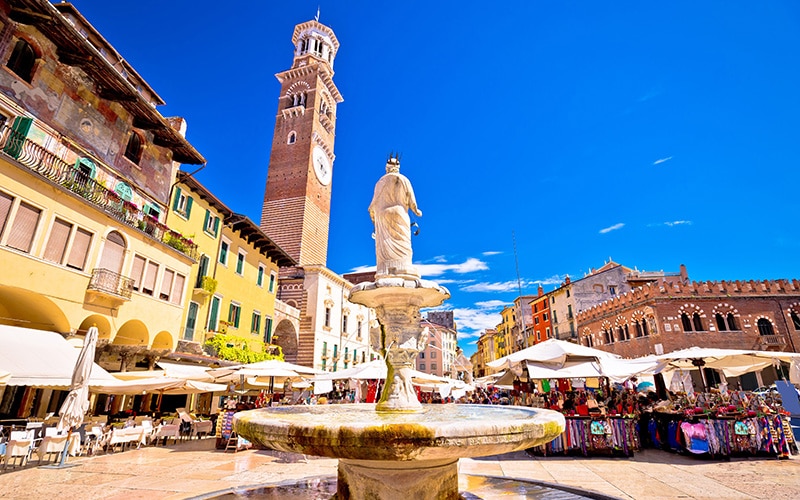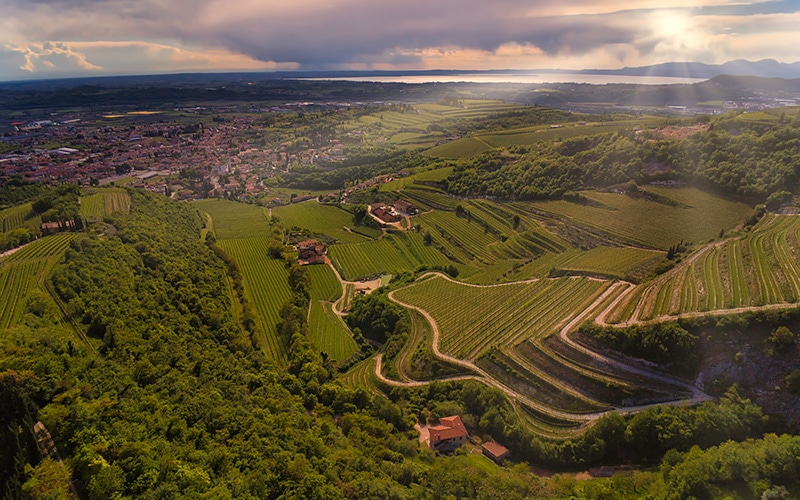 Valpolicella, the "valley of many cellars" is a succession of lush green vineyards cascading down to the expansive Verona plains. This bountiful corner of the Veneto is dotted with the estates of nobles and second only to Chianti and Montepulciano in total wine production. The appellation's diverse microclimate produces four wines famous over the world: lively Valpolicella, cherry-red Valpolicella Ripasso, sweet Recioto, and raisin-dry Amarone. Indigenous grapes and the ancient practice of drying them creates a range of styles that capture every wine lover's imagination. A generous glass of light-bodied Valpolicella among friends opens the door to a memorable evening, while just a few sips of chilled Recioto with dessert makes the perfect nightcap.
Poets and politicians, divas and dictators, they've all been drawn to captivating Lake Garda. Between Venice and Milan lies the unspoiled paradise of Lake Garda. Staring at its shores, surrounded by the snow-capped Dolomites, you can just imagine colossal glaciers carving the lake at the end of the last Ice Age. Italy's largest lake, Garda is bounded by picturesque towns like Desenzano, Salo' and Sirmione, rich in history and the striking architecture of numerous castles and monasteries. The lake's natural beauty has been immortalized by writers from Catullus and Dante to Kafka and Joyce. The indigenous vineyards and olive groves love Lake Garda's mild climate, and local food traditions, of course, pair the region's produce with fresh region's fish.